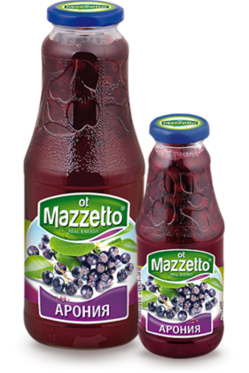 Ot Mazzetto Compote Drink with Fruits - ARONIA
Ot Mazzetto Compote Drink with Fruits - ARONIA
*No preservatives / No artificial sweeteners / No colorants 
Net Contents 1 L
Ingredients: Water, chokeberry min 12%, sugar, acidity regulator: citric acid.
Product of Bulgaria
Our history
We have created our fruit drinks for you, motivated by the perfect product.
In the beginning, we started with the production of several types of drinks entirely from local fruits, gradually expanding our assortment - to fruit drinks we also added iced herbal teas.
Today we offer you a palette of diverse flavors and we continue to search for new combinations of nature's gifts, working with the best suppliers from all over the country.
Quality
To meet your quality expectations, we produce our products WITHOUT dyes, flavorings, preservatives and enhancers, only in glass bottles and jars that do not change the taste of the contents.
To reach your hands, our products go through a process familiar to everyone. We use the freshest gifts of nature, entirely from local producers. The sweetest and ripest fruits and the freshest herbs arrive directly at the factory. Add pure refined sugar and water and boil. We have no secret recipes, no secret ingredients. You know the technology, you know the taste. And now you also trust the quality.
Eco politics
Our entire range is produced entirely in glass bottles and jars. Glass is a natural material and thanks to its unique properties, it provides the best and healthiest storage of food and drinks. 100% recyclable and environmentally friendly, it is the perfect packaging that does not change the taste of the contents.