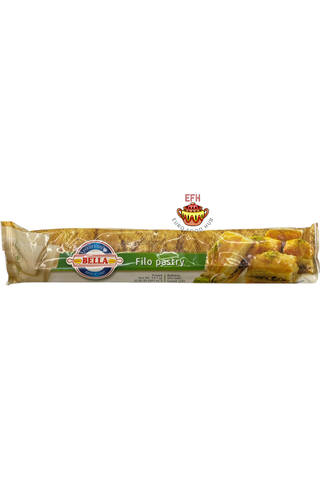 Bella - Phyllo Pastry Sheets for Baklava
Bella Phyllo Pastry Sheets for BAKLAVA.  The difference between the regular phyllo sheets and these is that these are extra thin.

Net weight 400g
Ingredients: wheat flour, water, starch, salt, preservatives; potassium sorbate, calcium propionate, acidity regulator; citric acid, antioxidant, ascorbic acid, flavoring, dough processing agent; E920, packaging gases; carbon dioxide and nitrogen.
Product of Bulgaria
БЕЛА, Точени кори за баклава и сладкиши екстра фини 400g
Състав; пшенично брашно, вода, нишесте, сол, консерванти; калиев сорбат, калциев пропионат, регулатор на киселиността; лимонена киселина, антиоксидант;аскорбинова киселина, ароматизант, агент за обработка на тестото; Е920, опаковачни газове; ваглероден диоксит и азот.