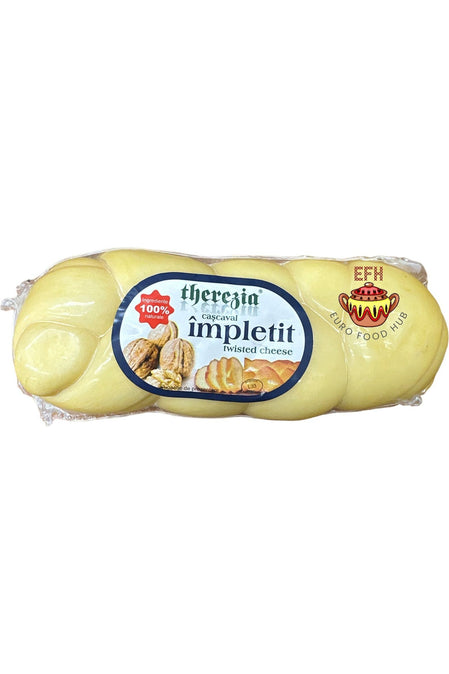 Braided Smoked Cascaval Cheese - Impletit - THEREZIA 340g
Romanian Kashkaval or Cascaval - RUCAR is a typical Balkan yellow type of aged cheese.  
It would have been unimaginable for the Therezia smoked products not to include perhaps the most delicious cheese of the dainty smoked products. And it has good reason to be dainty. Presented in an original form and at the same time combining the Romanian culinary tradition with the specifics of the Transylvanian plateau area, Therezia Braided Cheese steals you away altogether. Somewhat subtle, with a relatively low volume, it leaves the smoke the right of grasping it from one end to another. It's no small thing to find in a cheese both the old and the new. Its smoking takes your taste away in time, but do not worry about this. You are reminded by its fresh and delicious core that you are eating perhaps the naughtiest cheese of cheeses.

Made of Cow's milk.  Rich and perfectly smooth taste.  

Ingredients: cow milk, enzymes, rennet, calcium, salt.

Contains: milk
Net Weight 340g
Product of Romania