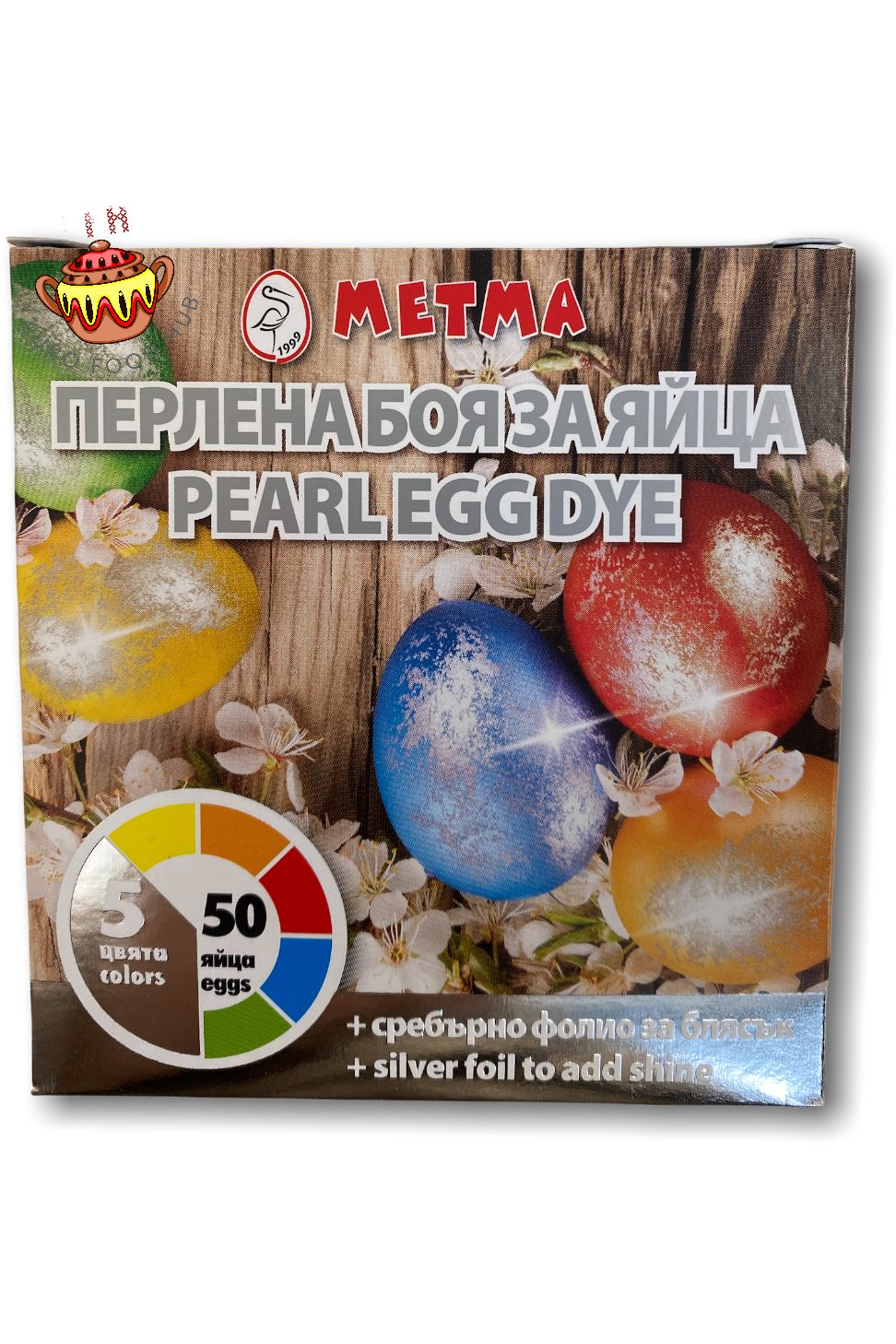 Easter Egg Dye - PEARL – 5 colors + Silver Shine
The package contains: red, blue, green, yellow, orange + silver shine. 
For coloring 50 eggs.
Instructions for use:
1. Boil the eggs and keep them hot. Put on the gloves and separate the paint blisters with scissors. Put the dye with the top above in a cup of hot water. When the dye softens, shake well, put the tops for a moment in the water and cut them after that. Bring back the vials to the cup.
2. Dry one of the eggs with kitchen paper. Start with the lightest colour. Put about 15 drops of the dye on your palm with the glove on and spread well. Roll the warm egg in your hand with dye. Let the painted egg dry for a while.
3. After that immediately wrap a foil sheet around the hot and sticky egg and press well. The mat side of the foil should be directed to the egg. The metallic effect will be more visible if you rub the foil with your fingernail or a spoon handle. Then remove the foil and your egg will have a perfect shining metallic appearance! The foil may be used several times, till the metal layer is removed.
4. Before using the next dye, wash the gloves well with cool water and dry them. If necessary, change the water in the cup with hotter and soften the dyes again.
Contents:
1.Easter egg dye pearl – red, blue, green, yellow, orange Contents: water; colorants – сarmoisine Е122; Brilliant Blue FCF Е133; Argint Е174; Titanium dioxide Е171; acid: citric acid E330; preservatives: sodium benzoatе E211, potassium sorbate E202, gelatin. 2. Foil for shine – silver
Product of Bulgaria