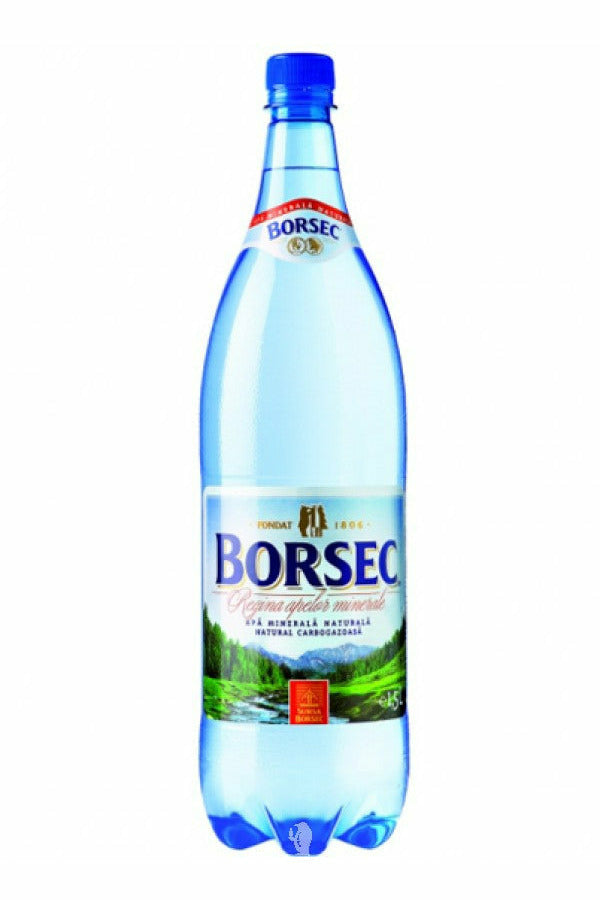 Naturally Carbonated Mineral Water - BORSEC - 1.5L
Naturally Carbonated Mineral Water BORSEC 

Highly appreciated for over two centuries, Borsec mineral water is the proud bearer of the "Queen of Mineral Waters" title, awarded in Vienna in 1873.
Net Content: 1.5L
Product of Romania
"A more beautiful and fascinating place than the Borsec area is almost beyond imagination. Nature wished to bestow its divine benevolence upon an enchanted garden, so that it would be not only useful but also praiseworthy."
---
Orbàn Balàzs, "A Description of Szekler land", 1868.
The Borsec Springs are located in North-Eastern Romania, in the Borsec Depression, Harghita County, in the heart of the Carpathian Mountains. The Borsec spa resort lies at an altitude of 900 meters, and the surrounding, vast, coniferous forest provides its beneficial microclimate. There are more than 15 natural mineral water springs. The group of springs is connected to Borsec's basin, dating from the Pliocene. The deposits within this basin contain, within the bedding, crystalline rocks in the epizone, superimposed spots of sedimentary rocks (dolomitic limestone from the Triassic), covered by deposits of conglomerates and sandstones, clays and clay marl. The Quaternary strata consist of peat and travertine deposits. The waters from the crystalline rocks can circulate, accumulate and mineralize, by passing through the cracks of the massive Rebra crystalline rocks, or through lithological contact surfaces. The mineralisation of these types of waters depends on the dynamic activity of the waters. The carbon dioxide content, which is decisive in maintaining the chemical balance between calcium, magnesium, and sodium bicarbonate compounds, originates from the mofetta ring within the Harghita-Călimani chain.